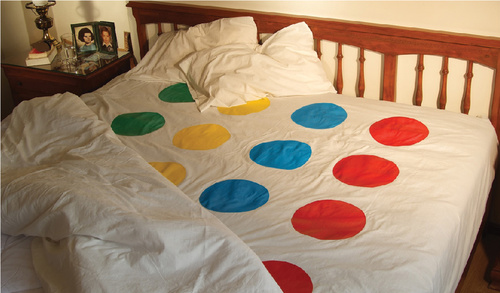 Today both genders wish that our partners came with an instruction manual with a diagram images of a sexual version of twister. As a sex educator and life & relationship coach, offering the following classes and seminars has empowered singles and couples not only in their relationships but with discovering personal pleasure through self masturbation. For some, oral and anal pleasure was thought and taught to be taboo, however it's been around for centuries.  Karma Sutra and Tantric provide amazing pictures however they don't teach us enough to feel comfortable, nevertheless how or where to even start.
For most women & men oral pleasure is given for the wrong reasons; more from a since of duty then desire, although todays woman have certainly become more sexually demanding with the "Sex in the City" era. There's glory in performing great oral pleasure on your lover. Did you know that most men and some women consider oral sex more intimate the intercourse? Oral pleasures are exclusively about having fun-its intoxication play. It activates in your lover a unique, primal set of feelings that swings from lust to affection and back, and exerts an extremely powerful pull on his/her libido.
Anal pleasure has alway bared the tag of Taboo… Today, anal sex is seen as an intimate activity enjoyed by a wide variety of people of all genders and sexual orientations. Men and women have nearly identical anorectal anatomy, the anus is the anal opening; it is made of soft tissue, rich in nerve endings and seductively delivers amazing pleasure.
Both men and women have often asked, "What's so great about anal sex?"  The answer to that question involves both the physical experience,  emotional and psychological elements that come into play. Like sex in general, anal sex is a holistic experience that encompasses our bodies as well as our minds and our spirits. The opportunities for anal pleasure is diverse, and what makes one person moan in delight and pure ecstasy may leave another person uninspired to further the experience. For most people, it is a combination of factors that make anal sex a satisfying activity.
Communication and an open mind without judgment is always the first step in all sexual experiences. For most partners asking for a sexual favor may not be most comfortable thing to express; for many reasons. If you are unsure how your partner is going to take the request, or simply knowing how to introduce the desire to explore something different without offending your partner, creating a date night doesn't mean you always have to leave the house to do some thing expensive, watching something on television that is equally arousing and stimulating for you and your partner, or sit and read an erotic books together and later try some of the things that read about.
Give your relationship a sexual tune-up! Curiosity, experimental wishes, and desire to fulfill your sexual impulses, get to know each other's bodies and unique responses. Couples thrive when they progress in their pleasures with allowing your bodies to communicate in a non-verbal way.  With some keys elements in place oral and anal sex evolves magically on both sides within a sexually demonstrative couple.  Today finding new ways to reconnect and explore new avenues within relationships are difficult for men and women with the amount of day to day stress and the financial state of the economy. I have found that amount of relationships I have helped through these classes has surpassed my imagination.
Please Click the drop down box in the toolbar to view the classes! Treat your friends to an amazing ladies night in, book your class today.  Click below for group classes, events & seminars in your area.